Parents/Guardians,
During the month of April, our National Junior Honor Society students will be hosting a Krispy Kreme Fundraiser.  Flyers and information were sent home this week with all of the students.  The fundraiser cards are $20.00 each and they entitle the card holder to 1 FREE Original Glazed Donuts with the purchase of ANY DOZEN doughnuts.  The fundraiser will run the entire month of April. The order form and money will be due May 1st.   Cards will be delivered on or by May 6th.
We appreciate all of your continuous support for the students of Basilica School of St. Paul.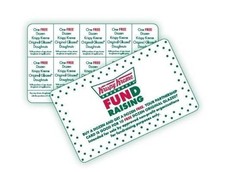 PRIZES:
The Class who sells the most cards will receive a Dominoes Pizza Lunch Party.
The Student who sells the most cards will receive a $50.00 gift card to our Buy One Get One Free (BOGO) Spring Book Fair (Book Fair Dates: April 29-May 2)
Every student who sells at least one card will receive a prize.